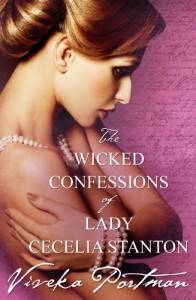 4 stars
This may be the steamiest story I've ever read in my entire life. So far.
It isn't thaaaaat steamy, I simply don't read erotica that often xD
This novella consists of a diary written by Lady Cecelia Stanton, married to Lord William Stanton against her will at a very young age. During the years of her life we have access to, her growth is visible. From the scared young woman whose virginity was aggressively taken by her insatiable, rogue husband to a much more promiscuous lady in her fifth pregnancy. You see, after that first night of horror, Ceecee learned to cope with her new condition, with the help of her lady's maid and childhood friend Bess.
Bess, a much more experienced woman than Cecelia, began instructing her in the arts of pleasure since her wedding night, allowing Ceecee to relax and welcome her husband painlessly. Between her lessons with Bess and her marriage duties/pleasures, Cecelia eventually gets knocked up, periods in which her husband distances himself from her in fear of hurting the baby and she spends a longer amount of time with her maid.
However, I never perceived Cecelia an excessively horny woman. Yes, she does have her fetiches (you'll see what I mean), but the way her actions were described led me to understand her motives and her thinking. In a repressive society, her shared love for her husband and her maid had to be kept a secret. In general, I enjoyed the novella and the writing style very much, so I'll most definitely keep an eye out for Viveka Portman.
*This ARC was provided to me by Netgalley in exchange for an honest review.*